El Vado Motel Restoration



Historic Adobe restoration, 2017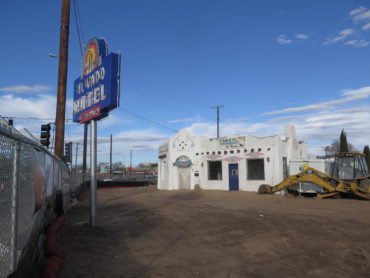 MRP Design & Construction has completed all the Historic Adobe renovation work at the El Vado Motel. MRP installed and re-structured all window and door headers and frames, restored the water damage and erosion on all adobe walls, and re-decked the roofs on all three of the historic buildings. MRP has now completed their work on the project. When the motel restoration is complete you'll find a before and after gallery available on this website.

El Vado Motel is a Pueblo Revival style motel on Route 66, and is entirely adobe construction. It was built in 1937, and is listed on the National Register of Historic Places, the State Register of Cultural Properties, and is a City Landmark. The motel was closed in 2005, and the buildings were abandoned. Roof leaks caused substantial erosion of the stucco and extreme water damage to the adobe walls. El Vado is now a City of Albuquerque development project, and is part of the City's revitalization plan for old town. Restoration on the El Vado began in 2016, and it will reopen as a boutique motel.
The project required full restoration of the historic motel, with all the adobe renovation completed by MRP Design & Construction. All work was done in compliance with State Historic Preservation regulations, as the building is registered as a Cultural Property.
Architect, Design Plus, LLC
PacifiCap, Inc., General Contractor
Find out more through the Albuquerque Journal article and KOB4 video links below…
.

By Steve Sinovic / Journal Staff Writer
Friday, May 5th, 2017
ALBUQUERQUE, N.M. — Construction is moving forward on the long-awaited restoration of the El Vado Motel as well as redevelopment of the former Casa Grande site.
Crews have been active for several months on both work sites, reports Rick Davis, an Albuquerque residential and commercial builder and executive director of Family Housing Development Corp., a local affordable housing developer…   Continue the article…
.
Morgan Aguilar
March 30, 2017
ALBUQUERQUE, N.M. — Developers hope construction on the motel — located at the intersection of Central and New York avenues, near Albuquerque's BioPark — will be finished by Aug. 1. They're turning the old motel into a "boutique motel." That means it will be small and unique, unlike the more well-known hotel chains.
City leaders hope it will become a popular tourist destination…   Watch the video…

Old Town Treasure



For the Journal – January 10, 2010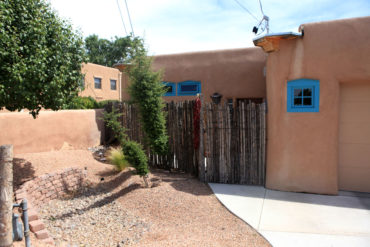 When the sun rises over Old Town, the soft morning light trickles through a narrow bank of glass-block windows set high in the east-facing adobe wall that defines the bedroom of Lloyd and Jan Garcia. "You wake up a little easier," said Lloyd Garcia. 
The slowed rhythm of a bygone era seems to come naturally in this meticulously remodeled adobe home, an Old Town residence that's come close to facing the wrecking ball a few times in a life that dates back 130 or more years. 
The remodeled adobe home, with nearly 3-foot-thick walls of terrones and adobe bricks, is getting another go-around thanks to the Garcias and the restorative talents of builder Matteo Pacheco, owner of MRP Design and Construction. Pacheco is a self-professed adobe aficionado who found a way not only to save the old walls and beams, but also   continue reading…
Homes of Enchantment Parade
October, 2009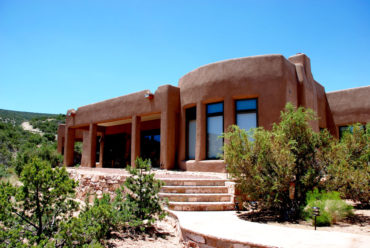 We are excited to announce that one of our homes at Diamond Tail Ranch was in the Albuquerque 2009 'Homes of Enchantment Parade'.  The selected house owned by Ed and Ana Tilton, is an extraordinary example of Southwestern adobe-style elegance set in a private landscape surrounded by extensive views.
It was designed by Levi Romero and built by Matt Pacheco of MRP Design and Construction Inc. who is known as the 'Lizard King' because he includes a fabulous lizard sculpture in every one of his completed projects. Pacheco considered the environment when constructing this energy efficient and livable authentic adobe home on our ranch full of history, wildlife and starry nights.
Pacheco explained that working at Diamond Tail Ranch was easy and enjoyable. He loved coming to work every day to the peaceful and calm area encircled by mountains. Another plus was that Diamond Tail Ranch had already established paved roads which made for   continue reading…